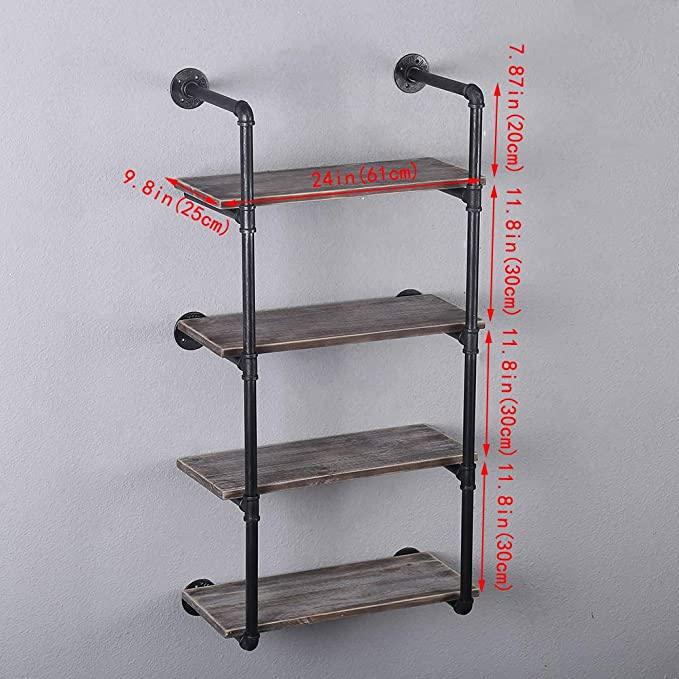 Pipe Shelves - [4 Tier - 24in] - 100% Natural Solid Wood - Industrial Pipe Shelving, Industrial Floating Shelves
Sale price
$94.95
Regular price
$0.00
Are you looking for a stylish and sturdy way to organize your space? DearConcept's pipe shelves are perfect for you! Made of high quality industrial black iron pipe, these pipe shelves are incredibly strong and can hold up to 330lbs. Plus, they come with a lifetime manufacturer warranty and hassle-free return within 30 days.
​​
You'll love how easy it is to assemble our metal galvanized black iron pipe shelves. No tools required! And they come in a variety of sizes and styles so you can put it in literally anywhere and it will look perfectly match with the entire design of your space
Our DIY Plumbing Pipe Shelves are not only stylish, but they're also incredibly functional. The steampunk style gas pipe shelves are a great way to add a floating storage or book shelves to any room in your home. They're perfect for the wall in the kitchen, bathroom, bedroom, or office. 
The wooden shelves are made with 100% Sold Pine HardWood. We would never use MDF, PB, or composite wood. It comes with all the necessary hardware for easy installation, so you can start enjoying your new storage solution right away.
Over $300+ SAVED when you order today:
Free Shipping (Value $59)
0% Sales Tax (Value $19)
Free Pre-order Inspection (Value $49)
Free Lifetime Warranty (Value $99)
Free Return within 30 days (Value $99)
HOW LONG AFTER ORDERING IS MY ORDER SHIPPED?
Jewelry orders are processed and ship within 1-3 business days and shipping time is 2-5 business days
Acrylic Plaque orders are processed and ship within 1-5 business days and shipping time is 2-5 business days

WHICH CARRIER DO YOU USE?
We ship all items with USPS and UPS. For international shipments, your local mail carrier will handle and deliver the item once it enters your country.


HOW LONG DOES IT TAKE TO ARRIVE?
We ship all orders from our USA (Florida) , EU (Amsterdam) factory.
- USA - Within 2-5 business days
- Europe - Within 2-7 business days

Return Policy:
We offer 30-day window to return the item if the receiver do not like the gift. Please notice the return policy is only apply toward non-personalized item. For all personalized item, due to the uniqueness of it, we only offer a re-make, in the case of your item is defective (But not refund)
Pipe Shelves - [4 Tier - 24in] - 100% Natural Solid Wood - Industrial Pipe Shelving, Industrial Floating Shelves
Sale price
$94.95
Regular price
$0.00