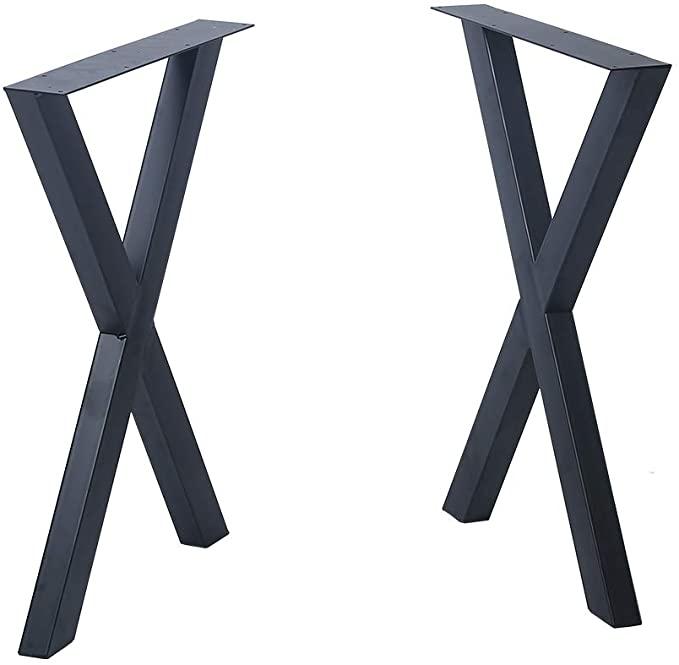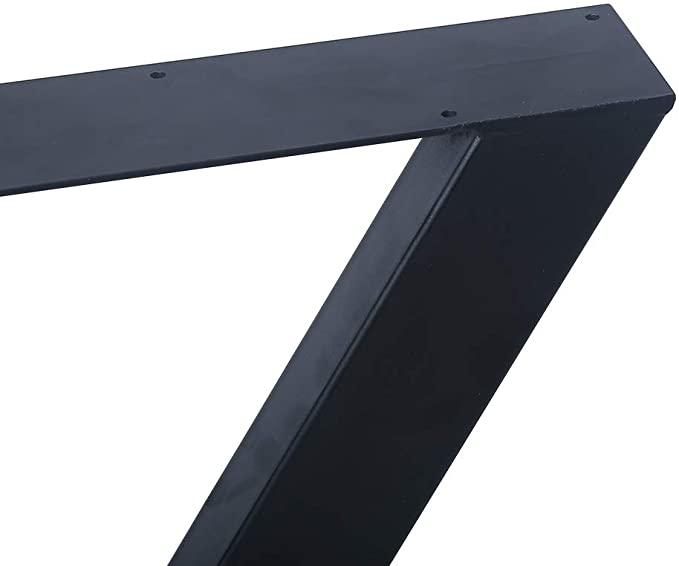 [28 x 17.7 in - TL2] Industrial Metal Table Legs, Metal Legs for Table
Sale price
$99.95
Regular price
$0.00
👍 𝟏𝟎𝟎% 𝐇𝐢𝐠𝐡-𝐐𝐮𝐚𝐥𝐢𝐭𝐲 𝐆𝐚𝐥𝐯𝐚𝐧𝐢𝐳𝐞𝐝 𝐒𝐭𝐞𝐞𝐥 - Increases the pipe's durability, scratch resistance, and rust and oxidation resistance. Our 
Metal Table Legs
 can be used both indoors and outdoors.
👍 𝐅𝐨𝐫 𝐡𝐞𝐚𝐥𝐭𝐡 𝐫𝐞𝐚𝐬𝐨𝐧𝐬, 𝐨𝐧𝐥𝐲 𝐮𝐬𝐞 𝟏𝟎𝟎% 𝐒𝐀𝐅𝐄 𝐏𝐀𝐈𝐍𝐓: GWH guarantees to only use safe paints with fulfilling high safety standards, and have been carefully tested by third parties. The surface of 
Metal Legs for Table
 is covered with premium powder coating very thick without toxic 6 heavy metals. Cert??-approved
👍 𝐒𝐡𝐚𝐫𝐩 𝐜𝐨𝐫𝐧𝐞𝐫𝐬 𝐚𝐫𝐞 𝐭𝐡𝐨𝐫𝐨𝐮𝐠𝐡𝐥𝐲 𝐫𝐨𝐮𝐧𝐝𝐞𝐝, resulting in a high-quality finish that poses no danger to the user, ensuring the safety of all family members. + Capacity: The 
Metal Table Legs of 28 inche
 has a capacity of up to 150?? lbs of heavy-duty bearing.
👍 𝐌𝐚𝐤𝐞 𝐬𝐮𝐫𝐞 𝐭𝐡𝐞𝐫𝐞 𝐚𝐫𝐞𝐧'𝐭 𝐚𝐧𝐲 𝐞𝐱𝐭𝐫𝐚 𝐬𝐨𝐥𝐝𝐞𝐫 𝐣𝐨𝐢𝐧𝐭𝐬 𝐨𝐧 𝐭𝐡𝐞 𝐬𝐮𝐫𝐟𝐚𝐜𝐞.
     𝐌𝐚𝐤𝐞 𝐬𝐮𝐫𝐞 𝐭𝐡𝐞𝐫𝐞 𝐚𝐫𝐞 𝐩𝐫𝐞-𝐝𝐫𝐢𝐥𝐥𝐞𝐝 𝐡𝐨𝐥𝐞𝐬. 𝐀𝐥𝐥𝐨𝐰𝐬 𝐲𝐨𝐮 𝐭𝐨 𝐝𝐫𝐢𝐥𝐥 𝐜𝐨𝐧𝐧𝐞𝐜𝐭𝐢𝐨𝐧𝐬 𝐭𝐨 𝐰𝐨𝐨𝐝 𝐬𝐮𝐫𝐟𝐚𝐜𝐞𝐬 𝐦𝐨𝐫𝐞 𝐞𝐚𝐬𝐢𝐥𝐲.
     𝐌𝐚𝐤𝐞 𝐬𝐮𝐫𝐞 𝐭𝐡𝐞 𝐩𝐫𝐨𝐝𝐮𝐜𝐭 𝐡𝐚𝐬 𝐫𝐮𝐛𝐛𝐞𝐫 𝐟𝐞𝐞𝐭 𝐭𝐨 𝐢𝐧𝐜𝐫𝐞𝐚𝐬𝐞 𝐡𝐞𝐢𝐠𝐡𝐭 (𝐚𝐝𝐣𝐮𝐬𝐭 𝐭𝐡𝐞 𝐡𝐞𝐢𝐠𝐡𝐭 𝐚𝐧𝐝 𝐥𝐢𝐦𝐢𝐭 𝐬𝐜𝐫𝐚𝐭𝐜𝐡𝐞𝐬 𝐨𝐧 𝐭𝐡𝐞 𝐟𝐥𝐨𝐨𝐫 𝐨𝐫 𝐩𝐚𝐢𝐧𝐭 𝐬𝐜𝐫𝐚𝐭𝐜𝐡𝐞𝐬 𝐰𝐡𝐞𝐧 𝐦𝐨𝐯𝐢𝐧𝐠). 𝐓𝐡𝐢𝐬 𝐫𝐮𝐛𝐛𝐞𝐫 𝐟𝐨𝐨𝐭 𝐜𝐚𝐧 𝐛𝐞 𝐮𝐬𝐞𝐝 𝐨𝐫 𝐧𝐨𝐭, 𝐝𝐞𝐩𝐞𝐧𝐝𝐢𝐧𝐠 𝐨𝐧 𝐭𝐡𝐞 𝐮𝐬𝐞𝐫'𝐬 𝐩𝐫𝐞𝐟𝐞𝐫𝐞𝐧𝐜𝐞𝐬.
    𝐌𝐚𝐤𝐞 𝐬𝐮𝐫𝐞 𝐭𝐡𝐞 𝐩𝐚𝐢𝐧𝐭 𝐜𝐨𝐚𝐭 𝐢𝐬 𝐍𝐎𝐓 𝐫𝐮𝐬𝐭𝐞𝐝 𝐨𝐫 𝐩𝐞𝐞𝐥𝐞𝐝 𝐨𝐟𝐟 𝐚𝐟𝐭𝐞𝐫 𝐚 𝐥𝐨𝐧𝐠 𝐩𝐞𝐫𝐢𝐨𝐝 𝐨𝐟 𝐮𝐬𝐞.
👍 𝐄𝐚𝐬𝐲 𝐭𝐨 𝐚𝐬𝐬𝐞𝐦𝐛𝐥𝐞: I swear it only takes about 𝟐𝟎 𝐦𝐢𝐧𝐮𝐭𝐞𝐬 to assemble the
 Coffee Table Legs/ Metal Furniture Legs 
as long as you follow the instructions exactly and the gravity where you live is still working.
---------------------------------
Product's detail:
1. Materials: 100% High-quality Galvanized Steel
2. Size: Height 28 x Width 17.7
3. Weight Limit: ?? lbs
4. Easy 20-minute assembly. View the instruction sheet here.
5. Lifetime manufacturer warranty & return within 30 days.
HOW LONG AFTER ORDERING IS MY ORDER SHIPPED?
Jewelry orders are processed and ship within 1-3 business days and shipping time is 2-5 business days
Acrylic Plaque orders are processed and ship within 1-5 business days and shipping time is 2-5 business days

WHICH CARRIER DO YOU USE?
We ship all items with USPS and UPS. For international shipments, your local mail carrier will handle and deliver the item once it enters your country.


HOW LONG DOES IT TAKE TO ARRIVE?
We ship all orders from our USA (Florida) , EU (Amsterdam) factory.
- USA - Within 2-5 business days
- Europe - Within 2-7 business days

Return Policy:
We offer 30-day window to return the item if the receiver do not like the gift. Please notice the return policy is only apply toward non-personalized item. For all personalized item, due to the uniqueness of it, we only offer a re-make, in the case of your item is defective (But not refund)
[28 x 17.7 in - TL2] Industrial Metal Table Legs, Metal Legs for Table
Sale price
$99.95
Regular price
$0.00